Christmas is that time of year when you often get bombarded with gifts you don't want. Sure, your aunt might have worked for months to knit that wool sweater with dancing snowmen on it, but it sure isn't going to help you get stronger or leaner.
So I've compiled a list of Waterbury-approved Christmas gifts for the athlete in your life. Or just take the initiative and buy these gifts for yourself!
1. LUMBAIR SUPPORT BY DR. MCGILL
I have an old disc injury that I've managed to contain over the years. Well, that was until last June when I started doing back flips. Yep, my L5 disc reminded me many mornings that it still had some residual damage. I knew I needed be more proactive so I started incorporating more core strengthening exercises and mobility drills. I also make a point to support my low back whenever I was driving or sitting at my desk.
In September, Dr. Stuart McGill happened to be in town so we got together for dinner. When I gave him a ride to the airport McGill saw the rolled up towel I was using for extra lumbar support. He gave me a befuddled look and said, "You really need my LumbAir support."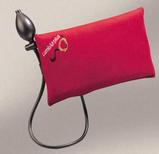 So I got one from him and it's basically fixed my low back pain by freeing up the constant tension I was putting on my discs. I assumed the low back stiffness I experienced every morning was normal until I started using his LumbAir throughout the day. It's always with me: in my SUV, at my desk, and on the seemingly endless plane rides I take these days.
If you have been struggling with back pain, get the LumbAir and use it whenever you're sitting. You can find the LumbAir at this link.
2. MY 2012 COACHING RETREAT IN PHOENIX
On February 2-5, 2012 I'll be giving a rare, up close and personal seminar in Phoenix Arizona for the Staley Performance Institute. This retreat will be an incredible opportunity for coaches and athletes to get two full days of personal instruction from me.
Here's the schedule for this awesome event:
Thursday (Feb. 2):
6:30pm-8:30pm– Meet and Greet with Chad Waterbury and friends in the evening. This is a great chance to just make friends in a casual environment and, get ready for our seminar.
Friday (Feb. 3):
9:00am-12pm Lecture – Chad Waterbury will cover the science of motor unit recruitment and the essential components of rate of force development – the key to athletic prowess in power sports.
2:00pm-5pm Practical – A complete hands-on session will cover the unique exercise sequence Waterbury uses to develop rate of force development for MMA athletes using three scientific training strategies. Progressions from novice to advanced will be covered.
Participants will go through a full-body training session designed to improve balance, power, and strength.
Saturday (Feb. 4):
9:00am-12pm Lecture – Participants will learn the shortcomings with the common nutritional strategies, and how to fix them. Meal timing, intermittent fasting, workout nutrition, and supplementation will be covered.
2:00pm-4:00pm Practical – Waterbury will outline the 7 essential body weight exercises an MMA fighter or power athlete should master. Progressions for each exercise will challenge even the strongest athletes. This hands-on session will transform your views on what it means to have full body power and mobility.
4:00pm-5:00pm Q&A with Chad Waterbury – We'll wrap things up with any lingering questions you have for Chad.
Saturday Evening- 6:30-8:30 Closing dinner. Some time to socialize and process what you've learned at the world famous Aunt Chiladas.
This event will be the most thorough seminar I've ever given. My entire system for building power athletes along with my latest tricks for high-performance mobility and nutrition will be covered in detail. I've never agreed to do such an in-depth seminar, so this is a very limited opportunity. I hope to see you there!
Click here to find out how to attend!
3. JACO TRAINING APPAREL
I know you want to look cool when you train. But just as importantly, you want to be comfortable. Jaco is a high performance clothing company that has burst onto the hard-core training scene over the last few years. They sponsor many top UFC fighters and they make, in my opinion, the best training apparel on the market.
That's why I was honored when Jaco asked to sponsor me.
Their performance t-shirts feel like cashmere but they breathe enough to keep you cool. Their shorts, pants, hoodies, bags and gear not only have killer designs but they can take the necessary abuse from any hard-training athlete.
Since I'm a sponsored trainer you might think I'm biased, but I honestly believe you won't find better training apparel on the market for men or women. Check out Jaco's awesome line-up at this link.

4. GYMNASTICS RINGS
All of the upper body and core training I do these days with MMA fighters and power athletes are on gymnastics rings. It's the most versatile and effective tool I've ever used. The options are endless when it comes to training with rings – you're only limited by your imagination.

If you've never attempted pull-ups, dips, handstand push-ups or the front lever on rings you'll quickly realize why all those male gymnasts have such incredible upper body development. The type of contraction you get while training on rings is like nothing else.
The best rings I've found for the price are at Christian's Fitness Factory. First, the rings are made of wood – that's essential for absorbing sweat and using chalk. Second, they're adjustable with markings on each strap so you'll know each side is even. Third, they're made from high quality material.
You can pick up a pair of rings at this link.
5. AST ENZYMES
Inflammation can be a killer – literally. Name virtually any disease and you can be sure excessive inflammation is a culprit. But beyond disease, it's that pesky inflammation that keeps you from training more frequently at the highest intensity.
The first, and best, line of attack against inflammation is to add plenty of fresh fruits, vegetables and wild fish into your diet. For some, however, that's not enough.
AST makes an excellent line of enzymes that I've used with myself and my clients. Just take one pill three times per day between meals for three days. If you're still suffering from joint or muscle pain, up the dose to two pills three times per day. That should alleviate your suffering by reducing the amount of C-reactive protein levels in your system.
The Exclzyme-2AF enzymes represent a super simple way to reduce inflammation and hasten recovery from a muscle strain or sprain. Just click the image below.

6. HUGE IN A HURRY
Since its release three years ago, Huge in a Hurry is still going strong. Every week I receive excellent feedback regarding the effectiveness of the system. Here's a testimonial I recently received:
"Chad, I have been following your Get Big and Get Even Bigger programs
for the past few months. I used to workout a lot, but due to work I fell
off the train.
I was hesitant at first with the radical departure from other programs I
have used. Using three core lifts to target all major muscle groups
and letting the big, high muscle exercises take care of the
tiny muscle specific lifts is quite different for me. I won't lie
either, I doubted I could achieve the same results with such a
different program.
Attached is a before and after photo I took 81 days into your program.
The results speak for themselves. Thanks for such a great product!" -Palmer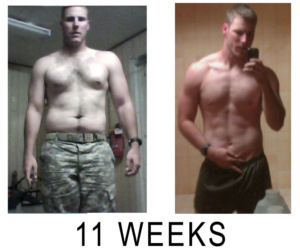 The best news of all? Huge in a Hurry is now less than $10! You can get it on Amazon at this link.
Merry Christmas,
CW