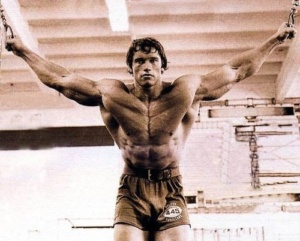 Training your entire body, each time you suit up for a workout, is the fastest way for 99% of lifters to gain muscle. I can't make it any simpler than that. Full body training (aka total body training) is as popular as ever because that's what the vast majority of lifters out there need.
I've written countless articles and three books that revolve around full body training: Muscle Revolution, Huge in a Hurry, and Body of F.I.R.E. In fact, if you do a Google search for "full body training" or "total body training," the T-nation article I wrote a few years back on the subject is the first to come up. (Out of 71.1 million possible results.)
It's safe to say that my name is synonymous with the full body training philosophy, yet I still get frequent emails from avid lifters who want to try it but don't know how to set up an effective plan.
So that's why I decided to write this post. With the following information you'll have all the tools you need to make full body training work for you.
First, let me explain why this type of training works so well. There are three reasons: exercise selection, hormonal response, and frequency.
Exercise Selection: when you train everything in one workout you must be wise with the exercises you choose. Of all the variables that make or break your muscle-gaining efforts, exercise selection is number one. Any body part split can be effective if it's comprised of compound exercises. However, when you target specific muscle groups with body part split training you invariably do a bunch of isolation exercises that have little to no impact on adding muscle to your frame. With full body training, there's no time to mess with concentration curls, kickbacks, and a host of other subpar exercises. By default, full body training steers you to compound exercises that give you the most bang for your buck. Continue reading →